Can users see my Flipbooks in Full Screen?
Yes, Full Screen functionality is fully supported. However, website owners can not see the Full Screen button on Editor or Preview Mode. Full Screen button appears only when you PUBLISH your website.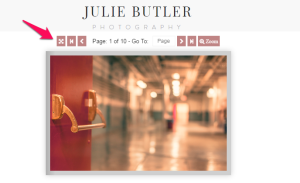 How many Flipbooks can i upload on my website?
You can upload unlimited number of seperate Flipbooks. Each time you wish to add a new Flipbook, just ADD the Flipbook App again from the App Market.
Can my users see Flipbook on Full Screen?
Yes. The Full screen button is visible only when you PUBLISH your website. When you are is Editor or Preview Mode the Full Screen button is NOT Visible.
I keep seeing "Creating Flipbook" notification for some minutes. Is it normal?
Yes. Converting PDF to Flipbook may take up to 10 minutes, depending on the sixe of your PDF document. Of course this is done only once.
I see a White Area around my Flipbook. How can i make the area transparent?
Go to your Flipbook App Settings and navigate to Design Tab, The first option can be set to transparent. You can also set any background color you wish.
I see stretched images when using Flipbook on Full screen. How can i prevent that?
Go to your Flipbook App Settings and navigate to Setings Tab (the 2nd one). Tick or Untick the Fill Page option and see how it displays your Flipbook.
How can I adjust the size of my Flipbook?
Just drag the corner of the wigdet that contains your Flipbook. Making it smaller or larger will automatically adjust the size of Flipbook.
(For Non English PDF's) – My PDF does not convert to Flipbook
Try using English only characters in your filename. For example if your PDF has cyrillic letters in the filelame, rename it using english characters (for example mybooklet.pdf)